Spring 2022 Showcase
06/07/2022 16:30

to

06/07/2022 18:30

(

US/Central

)
---
Suggested Donation $10
write in donation amount on the checkout page
Doyenne is able to keep our professional development program pricing at the lowest price-point possible thanks to the generous support of you and our sponsors.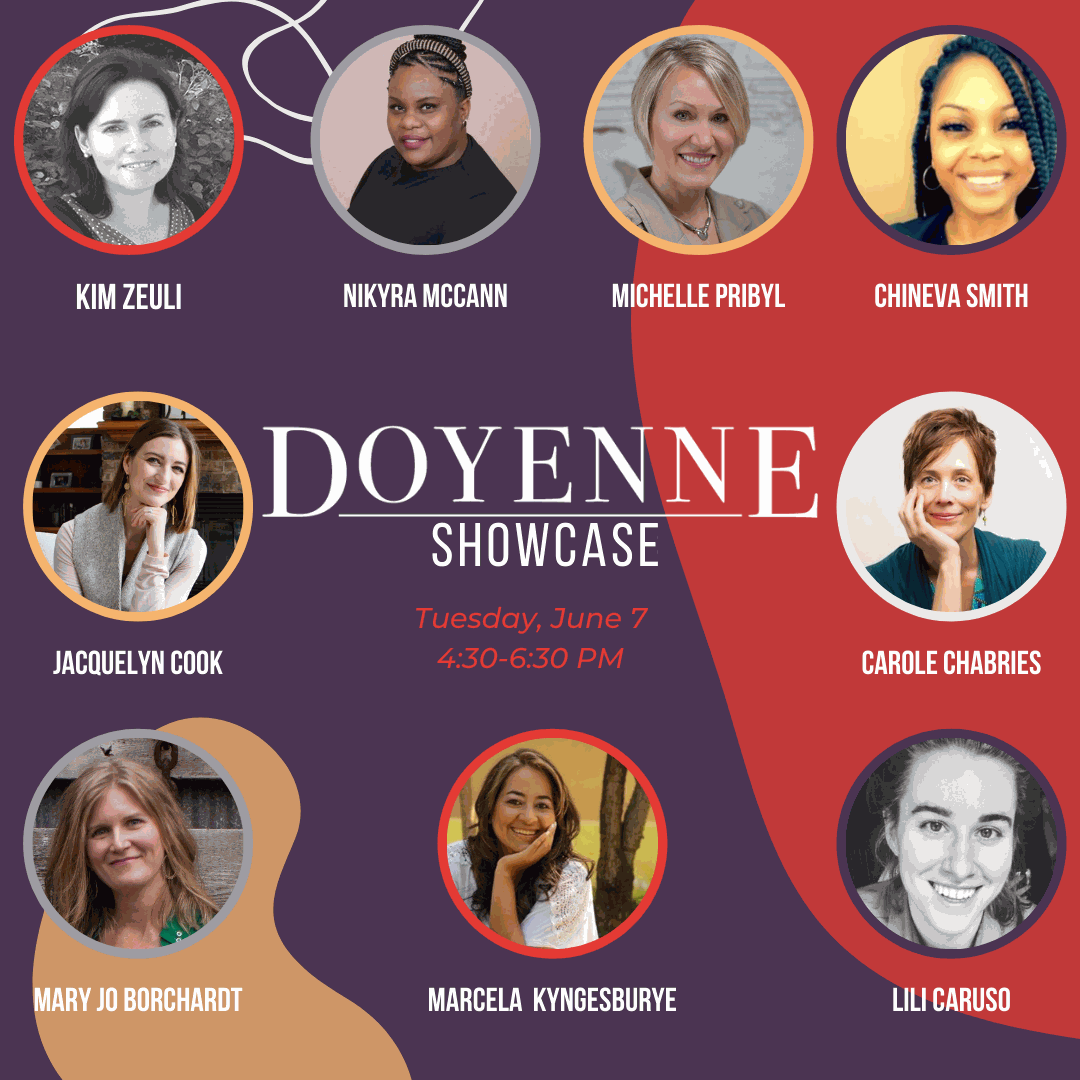 Pitch night for TTVT Entrepreneurs
Celebrate the ventures graduating from Doyenne's Spring cohort of Triple Threat Venture Training at the virtual Showcase event on June 7. You'll hear their pitches and have the opportunity to share your support, feedback, and expertise, as well as get to network with other attendees.
Please plan to attend the event for the full 2 hours as you will be an active participant. During the event, you will hear 5 minute venture pitches from 4 of the 9 entrepreneurs and provide feedback and ways you can support their success going forward.
The Showcase event is a professional development opportunity for the entrepreneurs. Most of the entrepreneurs have never developed or delivered a venture pitch and slide deck. We look forward to having you as part of their growth and development!
Meet the Entrepreneurs
Kim Zeuli (Madison, WI) The Feeding Cities GroupThe mission of the Feedings Cities Group is to create equitable and resilient urban food systems—globally. Creating urban food systems that are more resilient to--and better able to respond to--natural disasters. Our purpose is to help communities strengthen their food systems—from production through access—develop the most effective and innovative interventions and support implementation. We focus on cities but work in rural communities as well.
Nikyra McCann (Madison, WI) Still Standing Enterprise
Still Standing Enterprise is a mental health support organization to uplifts those in need through a caring, empathetic approach. While helping to end the stigma associated with mental health conditions.  We empower others that their recovery is possible and to implement recovery skills to help one establish stability.


Michelle Pribyl (Madison, WI ) Fun of It Productions
While still in the formation stage of venture growth, Michelle's mission is to help people connect and bond through games, fun, and laughter. Providing both corporate and private clients with concierge-like service to customize games and activities to their needs. From team bonding to engaging entertainment for private events, Fun of It Productions delivers fun, inspiring experiences that engage, enlighten and entertain all.


Chineva Smith (Milwuakee, WI) Crowned Soles
Crowned Soles provides inclusive, affordable, and quality footwear, hosiery, and accessories options to womxn of all walks of life. We have footwear size options and widths of stylish products that are generally unavailable, providing inclusive footwear options to the LGBTQ+ community, and providing quality & affordable footwear options convenient to customers through pop-up shooed and our online store.


 Jacquelyn (Jackie) Cook (Madison, WI) Popins LLC
Popins empowers parents with practical approaches to navigate the unique challenges of postnatal life. By focusing on foundational success, tricky transitions, and facilitating early escalations to experts in high challenge areas such as breastfeeding, mental health, and life management, we can make a meaningful difference for families.


Carole Chabries (Milwaukee, WI) The Clareo Group The Clareo Group works to eliminate the suffering caused by poor leadership that minimizes people's talents, ignores their gifts, constrains their power, and extinguishes their light. Mission: To equip people to lead with clarity, purpose, and joy. In higher education, faculty are often promoted into positions of leadership with little to no experience in basic supervising, let alone leading a team of colleagues to a vision of success. In addition, at many colleges and universities only a few chair positions turn over every year, so while there is consistent churn there is rarely a significant # of new leaders at a given institution to make it possible for the organization to invest in leadership development. With 20+ years of experience developing leaders in higher education, The Clareo Group provides tailored workshops and coaching to groups of colleges and universities seeking to support their new faculty leaders through individual growth and group coaching.
Mary Jo Borchardt (Poynette, WI) Atmospheric Floral
Atmospheric Floral offers non-traditional, artful floral designs that create an experience for the guests that is authentic to the couple / host for weddings and special events. It's a departure from the floral industry's status quo in several ways: sourcing of local product, sustainable design practices, and a commitment to collaboration over competition.


Marcela Kyngesburye (Madison, WI) Experiencing Being
Experiencing Being supports Leaders, Teachers, and Survivors of Trauma have a better quality of life.  We understand how losing the sense of purpose and feeling stuck has become a "new normal". At Exeriencing Being, we share awareness practices that allow for choices that open possibilities to reinvent yourself.


Lili Caruso (Oregon, WI) The Layered Onion
The Layered Onion is a benefit corporation created to eliminate the stigma of mental health by sharing and promoting works by artists with lived experience. We facilitate a vibrant community of artists that grapple with emotional hurdles. Choosing to be an artist can be daunting enough, but when you layer on health complexities it can be downright formidable. The Layered Onion eases the burden by providing a safe place to share, learn, network, and promote your work. Life is hard—Creative people with mental health challenges have difficulty navigating the requirements to publish and excel in their chosen field. To succeed requires stability, support, or incredible perseverance. These barriers limit who can express themselves. The Layered Onion is built to bridge the gaps that have allowed so many to fall through. The world is less rich when only a few paint the picture. Our early users are working artists searching for a network of creators with lived experience.
organizational level Sponsors